Activities
Business Model
We will achieve orphan drug creation with an innovative business model.
Our group covers the whole spectrum of pharmaceutical activities from development to sales
OrphanPacific was founded by CMIC HOLDINGS, a leading and pioneer contract research organization (CRO) company in Japan, and MEDIPAL HOLDINGS, a leading pharmaceutical products wholesaler with more than 200 facilities across Japan, reaching out to all medical institutions and pharmacies nationwide.
Extensive collaboration with our parent companies which both have robust track records in the medical field allows OrphanPacific to cover the whole spectrum of pharmaceutical activities from development to promotion in Japan.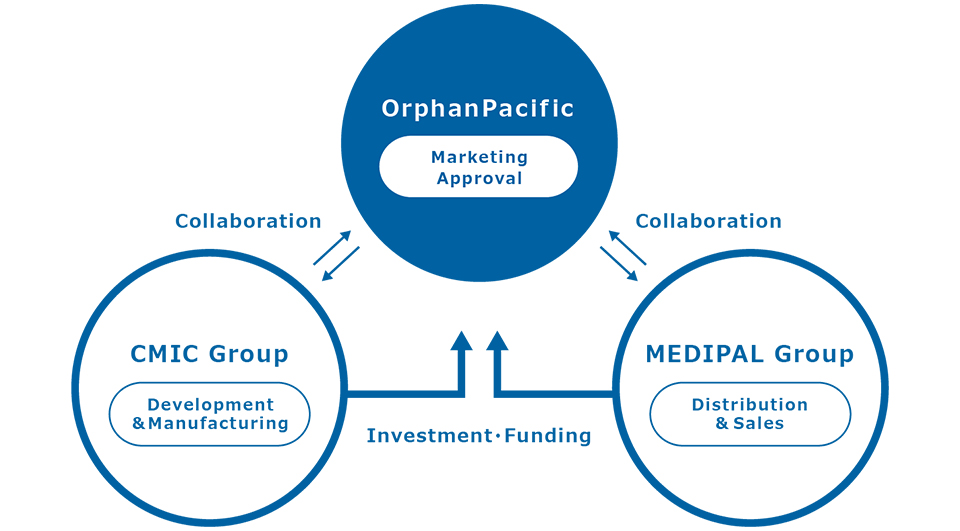 Continuous supply scheme with sale of both orphan drugs and Essential Drugs as two wheels
In order to secure a stable orphan drugs supply, OrphanPacific is also developing sales business of Essential Drugs that have been sold successfully. We are working towards the realization of our business success by organizing a scheme that combines orphan drugs and Essential Drugs as two wheels.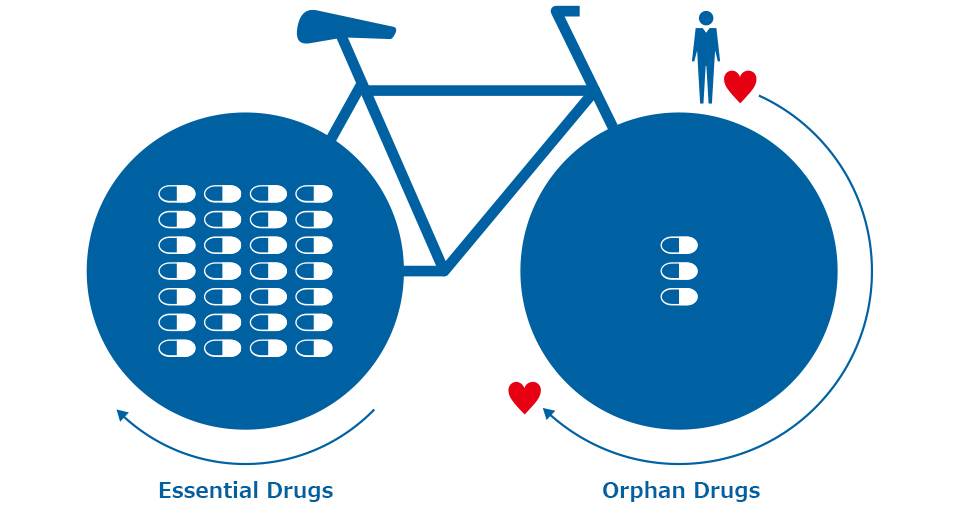 Information provision
With a combination of Face-to-face and Online services, OrphanPacific promptly provides effective information to medical professionals.
With the Sales Representatives in offices nationwide plus the Online Medical Affairs service enables OrphanPacific to provide useful information to the healthcare professionals immediately.
Moreover, this collaboration enables timely collection of valuable information such as condition and treatment of each rare disease patients provides benefit and support not only to their treatment but also to other patients as well.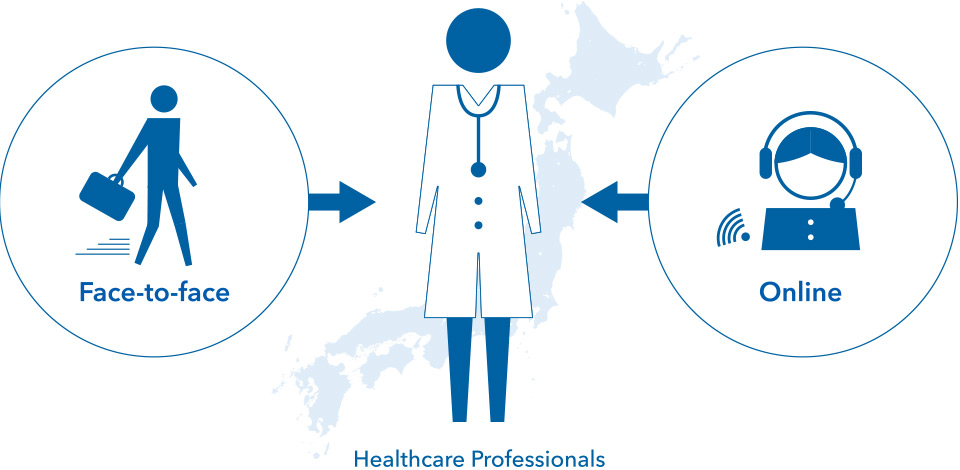 5 strengths of OrphanPacific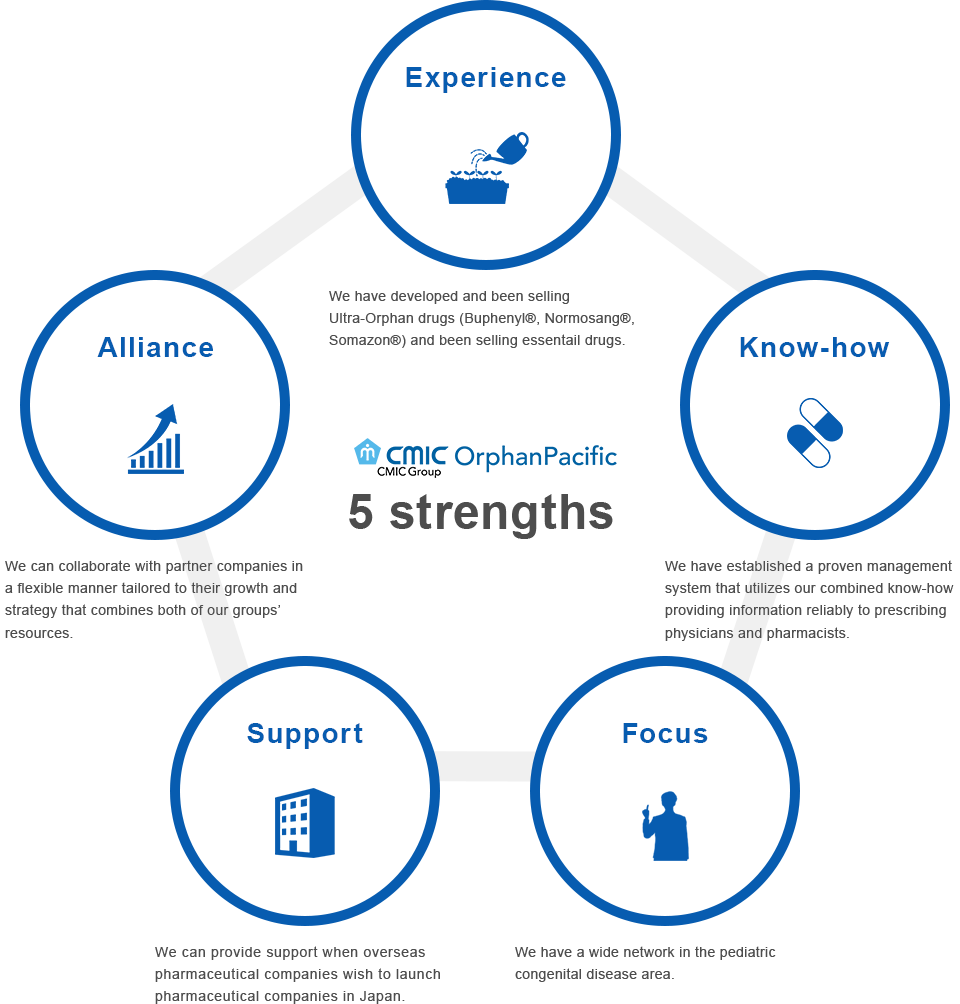 Products provided by OrphanPacific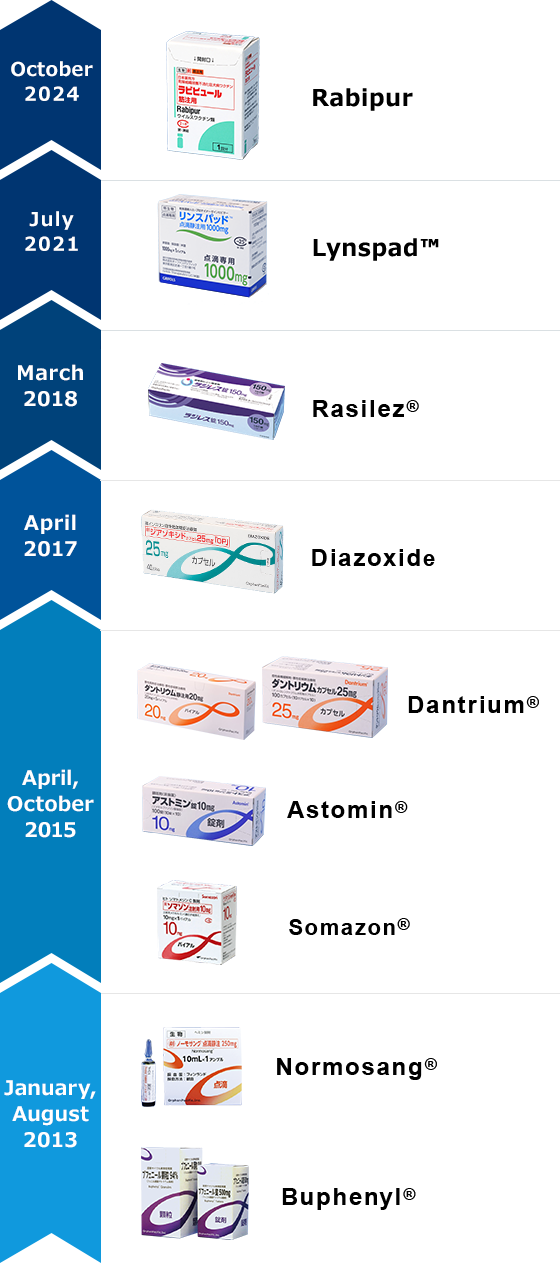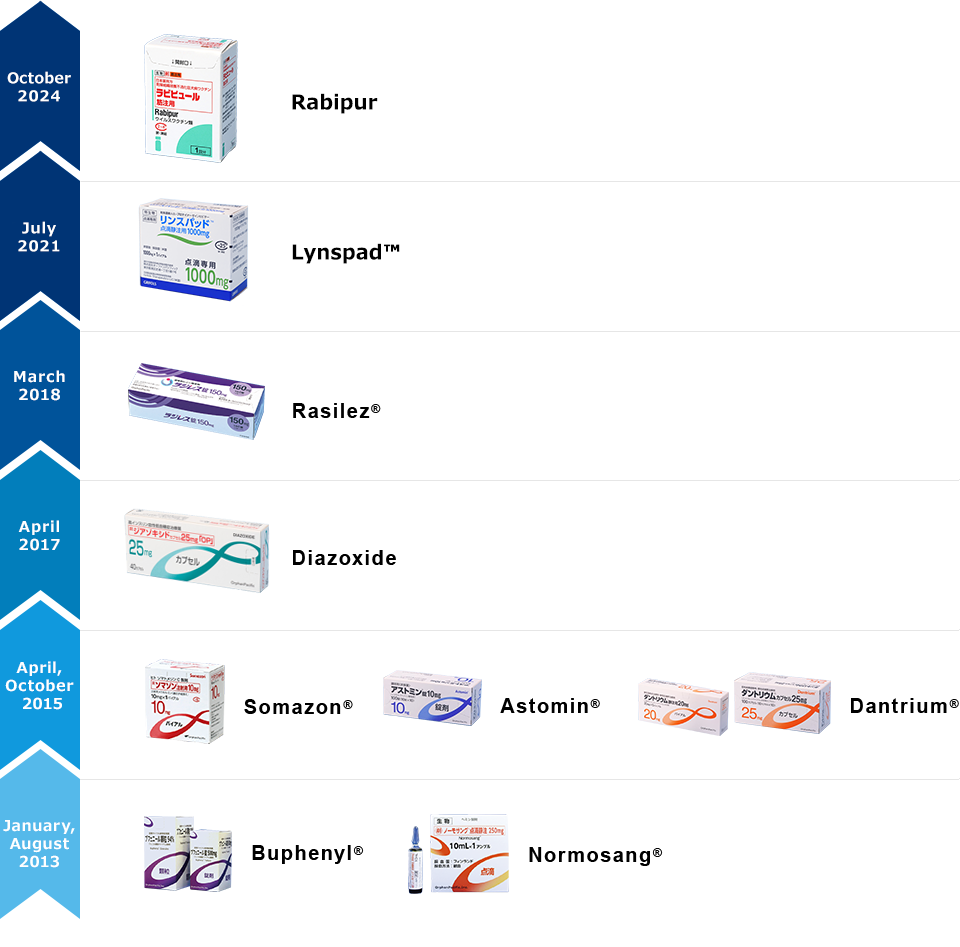 Trade Name
(Generic Name)
Formulation
Rare
Disease6)
Classification of drugs
by efficacy or indication
Number of patient
First
commercial
sales
Lynspad™(Alpha-1 Proteinase Inhibitor(Human))
Intravenous
Infusion 1000mg

●

Severe alpha-1 antitrypsin deficiency
247)
July 27, 2021
Radilez®
(Aliskiren Fumarate)
150mg Tablet
Hypertension
-
March 1, 2018
Diazoxide(Diazoxide)
25mg Capsule

○

Hyperinsulinemic Hypoglycemia
(Persistent)
1/35400 Born/Year5)
April 1, 2017
Dantrium®
(Dantrolene Sodium Hydrate)
20mg
Intravenous
Injection

○

Malignant Hyperthermia
4~5/Year4)
October 1, 2015

●

Neuroleptic Malignant Syndrome
100~300/Year3)
25mg Capsule
Spastic paralysis,
Syndrome of Progressive Muscle Spasm
-
Astomin®
(Dimemorfan Phosphate)
10mg Tablet
Acute and Chronic Cough
-
10% Powder
0.25% Syrup
Somazon®(Mecasermin)
10mg Injection

●

Insulin Receptor Abnormalities,
Growth Hormone Resistant Dwarfism
283)
April 1, 2015
Normosang®(Hemin)
250mg Infusion

●

Acute Porphyria
362)
August 23, 2013
Buphenyl®
(Sodium Phenylbutyrate)
500mg Tablet

●

Urea Cycle Disorders
2861)
January 17, 2013
94% Granule

●
1)Kato.et al., The status of nationwide registration of research projects for Specific Pediatric Chronic Diseases 2011.
2)Kawada et al., National epidemiological survey on hereditary porphyria (primary investigation) Result report
3)Edited by Orphan Drag Study Group, Handbook of Rare Diseases, Pharmaceutical Handbook 2009, pp. 39-40, Jiho, 2009
4)Mukaida et al., Journal of Japan Society of Clinical Anesthesia 32(5), 682-690, 2012
5)Kawakita et al., Journal of Japan Pediatric Society 115(3), 563-569, 2011
6)● indicates a disease designated as orphan drug, ○ indicates a disease with less than 50,000 patients
7)Seyama K, et al. Respir Investig. 2016; 54: 201-2
Contact us
Monday to Friday 9:00 a.m. to 5:30 p.m. on weekdays (Japan time).